How To Make an Avatar From a Photo in 3 Simple Steps
Wolf3D •
Creating a personal avatar is an excellent way to express yourself online. If you've got two minutes and a photo, you can create an avatar online.
What is a personal avatar?
It's a virtual version of you that's both recognizable and customized to your liking, allowing you to join in on different games, VR experiences and social apps.
Simple avatar creators like
readyplayer.me
allow you to create your avatar, with some extra customizations, in just a few easy steps.
Why do you need to make an avatar?
Virtual events
are bringing millions of fans, gamers, and socialites together; Create a personal avatar and use it in an ever-expanding array of games, virtual events, festivals, even meet your friends in VR! Whatever the occasion, you can represent your identity awesomely through a personal avatar.
If you're a social media user, but don't like putting your pics out there, then creating an avatar is the way to express yourself without sacrificing your privacy.
Once you
create an avatar
with readyplayer.me, you'll be able to use it in a constantly growing list of apps, games, and digital experiences.
3 Simple Steps for Making an Avatar
1. Choose an avatar maker
Visit
fullbody.readyplayer.me
on your laptop or mobile phone. Just make sure that you are able to snap a new photo or can upload a clear profile image later on.
2. Take a selfie
You have the option to take a photo or upload one. Either way, there are some simple rules to ensure your selfie avatar comes out awesome:
Make sure your photo is well lit. Dark photos will reduce the ability to define your avatar features well.

Keep it casual. Smiling may be tempting, but think "driver's license photo."

Make sure you remove your glasses (if you're wearing any) and try to keep your hair from covering up too much of your face.
When you're ready, tap on "Take a photo!" or choose the upload button and select a good portrait to create an avatar.
INSERT LOADING SCREEN (fun) - no, seriously. It could take 5-10 seconds, but you can relax. The next thing you'll see is a cartoon avatar of you!
3. Customize your personal avatar
You've created an avatar! You can choose some customizations here just in case you'd like to change something. Perhaps you really do want green hair; now is your chance. Once you're ready, tap that "Done" button in the upper-right corner and Voila! Welcome to the virtual world.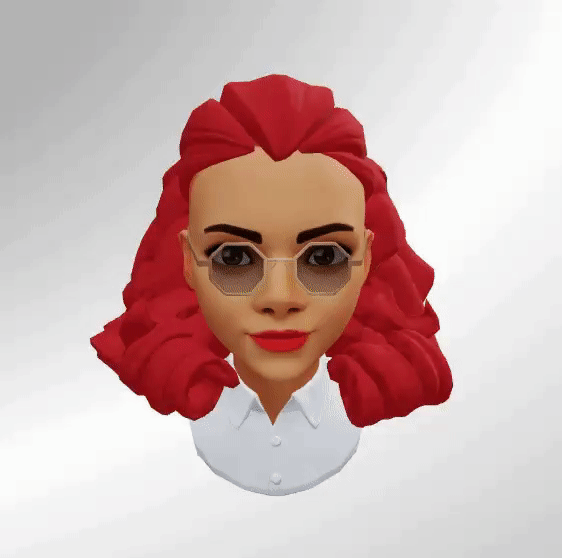 You're all set! Piece of cake.
Creating an avatar was simple. Make sure you know all the awesome places you can use it! Providing us with your email means readplayer.me can alert you on important updates and all the new integrations being created constantly. You'll be able to party, game and jam with the best of them.
Readyplayer.me has been working on avatar creators for over six years and we're constantly improving our services and making cool avatars even cooler.